ANGELIC AWARENESS
UNIT 53
Name of trader: Amanda Donnelly
Business name: Angelic Awareness
Business type: Psychic healing, spiritual gift shop
WINNER 2018 TRADER AWARD FOR SERVICE WITH A SMILE AS VOTED BY THE CUSTOMERS OF THE MARKET.
Services offered other than the Market presence: Home visits if you cannot get to the Market, angel/tarot readings, aromatherapy, spiritual gifts
Contact Details: 07462859607. amanda-donnelly@hotmail.co.uk, www.angelicawareness.com
Length of time in Luton Market: 2 years
Reason for choosing Luton Market: Busy and diverse culture
Sum up Luton Market in 3 words and why: Lively, Fun & Supportive – It is such a melting pot and everyone from traders to Management just Want you to be successful.
What makes your business unique? My own business offering very different therapies.
Current Offer: Hand crafted goods from other local Spiritual Artists.
Twitter: Angelic-Awareness@AngelicAwareness
Facebook: Angelic_Awareness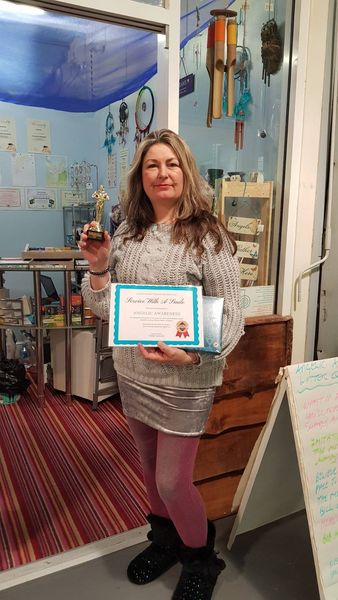 Luton Market is operated by Town and Country Markets, part of WMC Retail Partners Plc.
Registered office: 21 Market Street, Wellington, Telford, Shropshire, TF1 1DT. Company registration number: 00636475.